Biography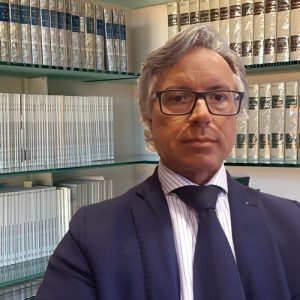 Graduated in Law in the 1995-1996 academic year, presenting a thesis in Commercial Law. Speaker: Prof. Giampaolo De Ferra of the University of Trieste. Title of the graduation thesis: "The simulation of the S.p.a".
Registered since 1999 at the Udine Bar Association.
Student of the 153° course of complement of the Italian Army at the Alpine Military School of Aosta, the Alpini Edagus Battalion (Alto – Adige).
Admitted since 2012 to the patronage of the Superior Courts.
Tax Master's degree 1999-2000 in Bologna held by the Tax Consulting Firm.
Posted since 2017 in the list of new Referees AIAC (Associazione italiana Allenatori Calcio) of the Pro League, Technical Center of Coverciano Florence, for the purpose of establishing the Arbitration Boards in sports disputes of the FIGC.
Participation in the activity promoted by the Associazione per l'insegnamento e lo studio dell'Arbitrato (A.I.S.A.) – Prof. Giorgio Bernini of the University of Bologna.
Preparation course for the notary exam in Naples held by Dr. Guido Capozzi in 1995.
Justice of the Peace with civil and criminal functions at the Office of Cervignano del Friuli, he ceased this activity with the closure of the Office following unification with the Office of Justice of the Peace of Udine from 2006 to 2014.
Deputy Honorary Attorney at the Public Prosecutor's Office of Tolmezzo acting as Public Prosecutor carrying out public prosecution activities in criminal trials from 2000 to 2003.
Trustee of the provincial union U.S.A.R.C.I. (Unione Sindacti Agenti Rappresentanti di Commercio) of Udine and part of the Legal Center since 2000.
Joined in 2018, with the Decree of the Patriarch of Venice His Exc. Francesco Moraglia, to the list of Lawyers and Attorneys of the Triveneto Regional Ecclesiastical Court.
Publication of Doctoral Thesis in Canon Law at the Pius X Venice Faculty – Doctorate in Canon Law on 24 January 2018.
Lawyer title of the Roman Rota and registration from 2017 to the Register of the Court of the Roman Rota.
Certificate of attendance at the training course in Vatican Law – November 2017.
Certificate of High Professional Training Course in Financial and Tax Law Vatican – September 2017.
Discussion of the Doctoral Thesis at the Faculty of Canon Law S. Pio X of Venice on 18 May 2016.
"Super Rato and not consumed" course at the Roman Rota: Summa cum laude dated 8 November 2013.
License in Canon Law at the Pontifical Faculty of Canon Law S. Pio X vote: summa cum laude dated 21 June 2012.
Three-year academic course at the Studio Rotale in Rome (2012-2015).
Master in comparative canon law at the International Institute of Canon Law and Comparative Law of DiReCom – Faculty of Theology of Lugano vote: magna cum laude achieved in 2012.